Sale!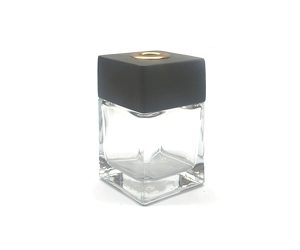 Description
---
Channeling industrial chic – these diffusers At long last we've introduced our highly anticipated diffuser range.
An extension of our industry leading glassware – our diffuser sets are of the highest quality.
Product components include brushed concrete and reinforced, tempered glass.
SPECIFICATIONS
---
The diffuser comes with:
1 x 200ml Concrete & Glass diffuser
1 x Concrete Top
1 x Silver Cap (under concrete top) and 1 x Silicone sealing cap
** please note reed sticks are not included **
Colour: Natural Concrete top, Clear glass base and gold rim
Diffuser Dimensions: 110mmH x 65mmW // 215mmH (with sticks inside)
Volume: 200ml
Weight: 600g
Available in packs of 2.
Carton size: 32 units
Please note, product photo may differ from actual item in terms of colour due to lighting and/or manufacturing.
*Disclaimer: Please be careful when filling the diffuser bottles with reed or fragrance oil. Oil that spills onto the exterior of the bottle may cause the finish to discolour.*