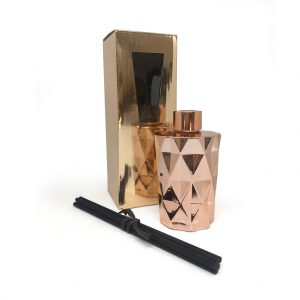 Description
---
An extension of our industry leading glassware – our diffusers bottles are of the highest quality.
More than just a bottle – fill with your trademark fragrance, with our 170ml Diamond Diffuser – an extension from our Diamond Vessel Range.
SPECIFICATIONS
---
1 x 170ml diffuser bottle – rose gold
1 x cap & silicon plug – rose gold
5 x thin dacron reed sticks – black
1 x windowed diffuser flat pack box – rose gold
Bottle Dimensions: 70mmW (top) x 60mmW (base) x 120mmH
Box Dimensions: 75mmW x 75mmL x 225mmH
Diffuser Volume: 170ml
Bottle Weight: 310g
Suitable Stopper: 1 cap & plug included Diffuser Caps & Plugs
Suitable Packaging: Complimentary windowed diffuser flat pack box included.
Available in single units.
Carton size: 48 units
Please note, product photo may differ from actual item in terms of colour due to lighting and/or manufacturing.
*Disclaimer: Please be careful when filling the diffuser bottles with reed or fragrance oil. Oil that spills onto the exterior of the bottle may cause the finish to discolour.*