Sale!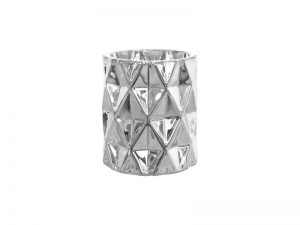 Description
---
Our in-house design team responsible for bringing the Diamond Vessel to market has done it again. Looking at trends and listening to customer feedback we've re-released the popular range in a smaller 120ml variation!
With sharp, clean angled glass in a diamond cut formation – the Diamond Range is simply stunning.
The way the light of a candle refracts from the multiple geometric angles in this jar has to be seen to be believed. The iron plating gold inner adds a spectacular and sophisticated look.
Thick, double-walled hand made glass sets the standard in quality.
The human involvement in the production process results in a safer, durable more consistent product.
With the Diamond Range, we at Luxury Candle Supplies have continued our commitment to raising the bar when it comes to providing a stunning range of products are available to you.
SPECIFICATIONS
---
External Vessel Dimensions (no lid): 68mmØ x 78mmH
Internal Vessel Dimensions: 58mmØ x 68mmH
Vessel Capacity: 120ml
Vessel Weight: 250g
Suitable Lid: This vessel does not contain any accompanying lid. No alternate lids available.
Suitable Packaging: Flat Pack Box Small
Suggested Wick Size*: LCS55
*Please note, wick sizes are suggestions only. For optimum results, we recommend users conduct their own wick tests with different blends of wax and oils that they intend to use.
Available in units of 4.
Carton size: 32 units
Please note, product photo may differ from actual item in terms of colour due to lighting and/or manufacturing.