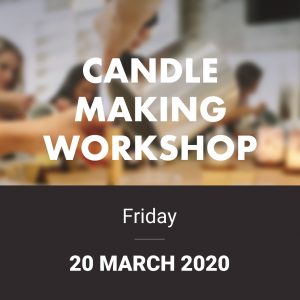 Description
---
Partnering with the expertise of Frosa Katsis from Soy Candles (www.soy-candles.com.au), the workshops will cover the following:
Candle-making techniques and safety protocols

Under the guidance of our experienced instructor, each attendee will pour 4 x candles of various sizes

Discussion and testing of various wax and wicks

How and when to add fragrance for optimal end-product results

Optimal pouring temperatures and discussion of ambient room temperatures for candle-making

Group and individual discussion with our expert instructor regarding workshop material and any candle making queries you may have

The ABC of candle making!
For improved quality and constructiveness of the classes, a limited number of places will be available for each workshop to allow for more discussion and one-on-one time with Frosa.
SPECIFICATIONS
---
Date & Time: Friday 20th March, 5.30pm – 8pm
Venue: Luxury Candle Supplies, Level 2 from Showroom – Unit 6, 39 Steane Street, Fairfield VIC 3078
Cost: $129.00 (inclusive of GST)
Duration & Capacity: 2.5 hrs. Classes will be limited to be small groups of 8.
Registration: Add this event product to the cart and check out as per usual. Ensure to select "collect in store" as the shipping option.
What to bring: Simply bring yourself! All materials will be provided to make the candles. You may also choose to bring a notepad and pen optionally to take notes.
For more information, please call (03) 9486 3899 or email info@luxurycandlesupplies.com