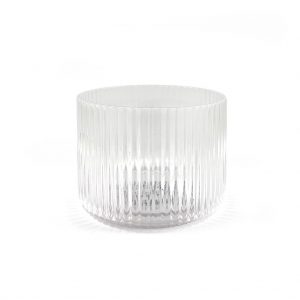 Description
---
DISCLAIMER: Please note this is not an LCS exclusive jar. This vessel is an overstock from another supplier which we are on-selling at a discounted rate. Purchase and use at your own discretion.
Limited edition – Ribbed Bowl Clear – 550ml
SPECIFICATIONS
---
External Vessel Dimensions: 115mmØ x 80mmH
Internal Vessel Dimensions: 110mmØ x 75mmH
Vessel Capacity: 550ml
Vessel Weight: TBA
Suitable Lid: N/A
Suitable Packaging: TBA
Suggested Wick Size*: TBA
*Please note, wick sizes are suggestions only. For optimum results, we recommend users conduct their own wick tests with different blends of wax and oils that they intend to use.
Only available as a full carton of 24 units.
Carton size: 24 units
Please note, product photo may differ from actual item in terms of colour due to lighting and/or manufacturing.